About Crazy Daisy Productions
Crazy Daisy Productions is an audio production studio located near Portland, OR offering a wide range of online audio services to musicians and audio enthusiasts all around the world, from amateur hobbyists to performing professionals, in a variety of genres and styles.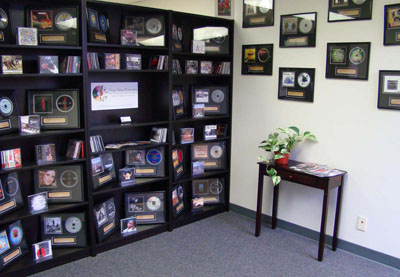 A Little History
Founded by head sound engineer Erik Veach in 2001, Crazy Daisy Productions began as an audio mastering studio in Eugene, Oregon. Using a proprietary software program he developed, Erik's unbeatable talent, keen ears and friendly manner lead Crazy Daisy to quickly become the mastering facility of choice for many independent musicians across the country and around the globe.
Crazy Daisy Productions has since grown and expanded its services to include mixing, song production, and short-run CD duplication, as well as audio restoration, video sound mastering, and acoustics consulting.
Crazy Daisy's staff
has grown, too, with engineers specializing in specific genres and software applications to ensure the best quality work in the broadest range, and talented studio professionals ready to lend a voice or instrument to enhance audio projects when desired.
In 2010, Crazy Daisy Productions continued expansion and moved to a new studio location in Beaverton, Oregon to include local services for artists and businesses in the Portland Metro area, as well as increase the diversity and range of our studio musician pool to better server the needs of our online clients.
Who Do We Work With?
Crazy Daisy Productions provides audio services with independent artists and businesses in mind.
Our clients
include award-winning artists, previous major-label artists who have gone independent, music hobbyists, bedroom studio musicians, new musicians, veteran artists, non-profit organizations and commercial facilities, highly successful recording and performing groups and individuals, and people who are simply recording an album for fun to share with family and friends.
No matter who you are, we give EVERY client the same high level of attention and great service, tailored to meet the specific needs of your project. Whatever your skill and level of performance, we have something to offer you. We know we can help you get the best sound possible for your music - our experience has proven it!
What Can We Do For You?
Our Primary Services Include:
We also offer
custom production packages
that include discounted combinations of the above mentioned services. This is a fantastic way to make sure your entire project is completed efficiently and with the best possible, consistent results.
But, don't just take our word for it - listen to
mastered sample tracks
* and
read testimonials
from past client projects. They speak for themselves. You can also see a
list of some of our clients
to get an idea of the wide range of artists with whom we work.
*We only share sample tracks from clients who have voluntarily signed a sample release form. We respect our clients' rights to have complete control over access to their music.